Writing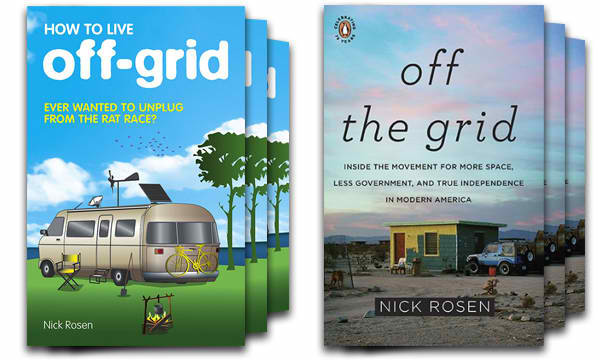 Vivum writers have published books, web sites, newspaper articles, and corporate reports. We provide a confidential speech-writing service which numbers several leading politicians  and business executives amongst our clients.
Vivum Director, Nick Rosen, is writing a new book about the Information Age for publication 2012.
Rosen is also a contributor to several national newspapers in the UK and US.
In 2007 he became fascinated by yhe Off-Grid lifestyle and spent a year touring the UK to see why and how people lived this way. The result was HOW TO LIVE OFF GRID – Journeys Outside the System, which was published by Transworld Books and remains a best-seller to this day.
His latest book is OFF THE GRID – Inside the Movement for More Space, Less Government and True Independence in Modern America.
OFF THE GRID – Reviews
Washington Post
"…despite Rosen's fascination with the lifestyle, his book functions more as a documentary than a soapbox, bringing readers of all stripes into a quirky subculture in which people cut themselves off from more than their utility companies. For all its rejection of traditional American society, this self-reliant entrepreneurial existence is genuinely American."
Newsweek
"A compelling look at a relatively invisible subculture…..Rosen's off-the-gridders may be iconoclastic, but a clown show this is not."
LA Times
Nick Rosen sees going off the grid as a political choice. In "Off the Grid: Inside the Movement for More Space, Less Government, and True Independence in Modern America," he writes that corporate greed, massive layoffs, healthcare wars, ecological disasters have caused many true believers to question the American Dream. He distinguishes between the back-to-the-landers, the hippies, the anarchists and the survivalists and writes about the issues they face as they go off-grid — zoning problems, permits and social ostracism.